Thomas J. Donohue
Chamber of Commerce of the United States of America
1615 H Street, NW
Washington, DC 20062-2000
Dear Mr. Donohue:
This letter is being sent to you on behalf of the Qatar Awareness Campaign Coalition. The purpose is to inform you and the public of the activities of Qatar. In 2010, the US Chamber of Commerce opened a branch in Doha, Qatar – AmCham Qatar. Qatar, while the wealthiest country per capita in the world, is at once the home base of the Muslim Brotherhood and also the world's most prolific sponsor of terror, including: Hamas, Boko Haram and the Islamic State.
AmCham Qatar is the "first legally established foreign Chamber of Commerce in Qatar." This is not a surprising fact, for Qatar is a business partner and client of several of America's largest and longest established companies, including Boeing, Lockheed Martin, ExxonMobil and others.
Considering the following statement: The U.S. Chamber of Commerce, which is by far the largest lobbying spender in Washington ($136.3 million in 2012), has a growing, intimate and working relationship with a sponsor of terrorism that profits from slavery, narcotics and extortion. Does this not stink of corruption, or incredible incompetence? It certainly has the potential spawn numerous international inquiries as to what AmCham Qatar does for the Qatari Al-Thani monarchy, who once welcomed and employed 9/11 mastermind Khalid Sheikh Mohammed.
As a businessman, you are familiar with the need for criminal organizations to wash, or launder, money. The activities of the Qatari-backed terrorist groups include extortion, slaving and drug trafficking. Boko Haram, founded by a Qatari proxy now residing in Doha, routinely sells girls into sex slavery. Meanwhile, the Qataris use "slaves" build soccer stadiums in preparation for the 2022 FIFA World Cup. These immoral businesses are highly profitable.
Sex trafficking alone has estimated annual proceeds of $32 billion. Given the Qatari penchant for captive/abused labor, and their various links to narcotics cartels from Afghanistan to Argentina, this $32 billion represents only a fraction of the potential revenue from such activities.
Of course, businesses that are found to be laundering money for terrorists and cartels are subject to massive fines. HSBC was fined $1.9 billion for various laundering charges; BNP Paribas was recently fined $8.9 billion for assisting blacklisted countries avoid sanctions.
The public is urged to consider these additional facts concerning American business in Qatar:
Additionally, Qatar is involved in Taliban narcotics trafficking through a relationship with the Pakistani National Logistics Cell and profits from operating a virtual slave state. The Arab Spring, a Qatari and American-backed program to install Islamists across the Middle East and North Africa, has led to a veritable diplomatic "crisis" with Israel. John Kerry's attempt to force Qatar's (who back Hamas) hatched peace terms on Israel has caused the only democracy in the region to question America's allegiance to their security.
The QAC Coalition and petitioners ask that you consider the attached sourced report on Qatar's activities. The links cited are vetted and credible sources. We hope you take the time to verify the truth of the statements for yourself.
After doing so, the Coalition of the Qatar Awareness Campaign calls on you to exert due influence on the Qatari government and the Muslim Brotherhood to cease any type of involvement in all forms of Islamic terrorism, slavery, and drug trafficking!
Sincerely,
Lt. Col. Allen B. West (US Army, Ret)
AllenBWest.com
Frank J. Gaffney, Jr.
Center for Security Policy
Pamela Geller
Atlas Shrugs
Walid Shoebat
Shoebat.com
Charles Ortel
Washington Times
Paul E Vallely, US Army (Ret)
Chairman, Stand Up America
Robert Spencer
Jihad Watch
Terresa Monroe-Hamilton
NoisyRoom.net
Trevor Loudon
New Zeal **
& the entire Qatar Awareness Campaign Coalition.
Qatar Research Report: http://www.stopqatarnow.com/p/research-report.html
Sign the Petition! Visit www.stopqatarnow.com
Facebook: Stop Qatar Now
Twitter: @stopqatarnow
** Select signatures as of 9/27. The Qatar Awareness Campaign Coalition is comprised of more than 25 journalists, national security experts, publishers, and independent researchers. To view all Coalition participants, please visit the Campaign's website.
CC: Bank of America. U.S.-Qatar Business Council. Blair Latoff Holmes, Executive Director of Media Relations, U.S. Chamber of Commerce.
Posted in

American Culture, Conservatarianism, Conservatism, GOP, House of Representatives, Ideological Subversion, Indoctrination, Islam, Legal/Judicial, National Defense, National Security, Politics, Senate, Terrorism, Theocracy, Totalitarianism, Tyranny, U.S. Constitution
Tagged

Chamber of Commerce, Qatar Awareness Campaign
Leave a comment
Fanfare, everyone! It's time to present this week's statuette of shame, The Golden Weasel!!
Every Tuesday, the Council nominates some of the slimiest, most despicable characters in public life for some deed of evil, cowardice or corruption they've performed. Then we vote to single out one particular Weasel for special mention, to whom we award the statuette of shame, our special, 100% plastic Golden Weasel. This week's nominees were all slime-worthy, but in the end the winner by a nose was…
CNN 'News Anchor' Carol Costello!!
Nice Deb: Although CNN News Anchor Carol Costello shouldn't have a job after her disturbing antics, last week, she does deserve to be considered for the esteemed title of Weasel of the Week in my humble opinion.
In the shocking segment, Costello could barely contain her glee over hearing new audio of Bristol Palin describing her assault at a party in Alaska a few weeks ago. In fact, Costello called it "quite possibly the best minute and a half of audio we've ever come across."
Costello then proceeded to describe the "massive brawl" and before playing the audio she told her viewers "so sit back and enjoy."
What you were asked to "sit back and enjoy" was the sound of a tearful and near hysterical Bristol Palin describing to the police the physical assault she had just experienced.
Despite overwhelming approbation from fellow journalists and conservatives appalled by her hypocrisy, Costello has thus far resisted offering an apology on the air for gloating over Bristol Palin's distress, instead opting to offer a weak and weaselly apology to Politico.
Virginia Right!: I am going to go with Carol Costello of CNN who was absolutely bubbly about Bristol Palin  being assaulted.
People that hate Sarah Palin so much ought to be in jail. There is no place in America for such hate by proxy.
———————-
Yes, this weeks' honors went to Carol Costello, who yet again proved that the real war on women is being carried on by the Left and that women who have left the Left's Plantation and think for themselves are fair game for pretty much anything, no matter how vile. We all know that if it was Wendy Davis, Debby BlabberMouth Schultz or Rachel Maddow getting assaulted, you know Carol Costello's jowls would have been quivering in outrage and she'd be yowling like an outraged alley cat.
Actually, considering CNN's ratings, I'm kinda surprised so many people noticed anything this 53-year-old partisan hack was doing, even in morning prime time. But they did. As a matter of fact, there's even a #firecarolcostello hash tag on Twitter and a CNN Should Fire Carol Costello Facebook page. Apparently a lot of people found Carol Costello's disgusting schadenfreude over the assault on Bristol Palin nauseating, although her network doesn't seem to since they haven't forced her to make an on air apology – yet.
Not only that,but other instances of Ms. Costello's particular brand of hypocrisy have come to light… like her on-air attack on ESPN analyst Stephen A. Smith, who she shrieked should be fired or be suspended for comments he made about the Ray Rice controversy after he apologized for them on the air.
It's the Carol Costellos of the world who make awarding the statuette of shame such a gratifying experience.
Well, we have the Golden Weasel all ready to add to the other souvenirs Carol Costello has undoubtedly collected over her career. However, at the express request of Sarah Palin, we sent the Weasel to the Governor so that she could have the pleasure of personally awarding it to Ms. Costello. From what Mama Grizzly said, if I understood her correctly, she wants to make a point of 'giving it to her good' in person and is willing to come down to New York to spend some private time with Ms. Costello to 'let her have it'.
Seemed like the right thing to do to me.
And BTW, when I happened to catch a clip of  Governor Palin on FOX this week with Stuart Varney, she sounded great, hasn't lost any of the old fire and hinted at running for office again…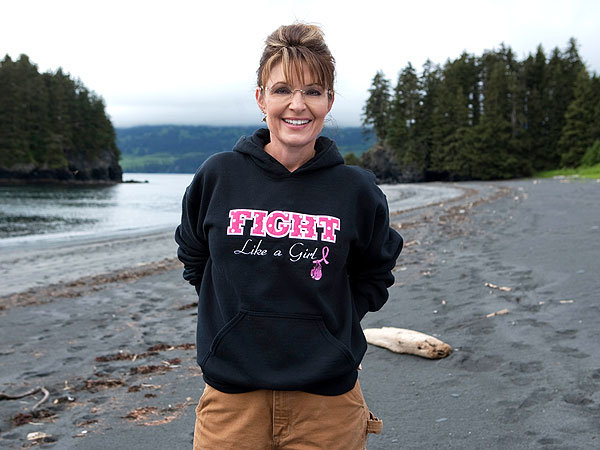 Well, there it is! 
Check back next Tuesday to see who next week's nominees for Weasel of the Week are!
Make sure to tune in every Monday for the Watcher's Forum and remember, every Wednesday, the Council has its weekly contest with the members nominating two posts each, one written by themselves and one written by someone from outside the group for consideration by the whole Council. The votes are cast by the Council and the results are posted on Friday morning.
It's a weekly magazine of some of the best stuff written in the blogosphere and you won't want to miss it… or any of the other fantabulous Watcher's Council content.
And don't forget to like us on Facebook and follow us on Twitter… 'cause we're cool like that, y'know?
YouTube/AFPCalifornia: Air Force One costs taxpayers $179,750 per hour. It's time to sequester President Obama's use of Air Force One and limit it to official business rather than vacations and sight seeing tours.
h/t: @Terrypooch